Like many of the market leading SaaS companies, Veeva's fiscal year-end is January 31st. Why is this important? Most technology suppliers before their fiscal year end will have an extreme 'push' by sales management to extract every last dollar of potential revenue before they have to report out their annual earnings. As any sales representative will tell you, everyone wants to close strong at the end of the year. Veeva is no different. To that end, however, there can be opportunities for savvy buyers who are willing to research and invest time in understanding their supplier and their place in the market - even with only days to go. It's (almost) never too late for us to look.
Who is Veeva? A Recap
Veeva is one of the world's most successful cloud software companies, founded in 2007 and headquartered in Pleasanton, California. Veeva over the years has developed a vertical specific cloud software geared to service the Medical, Healthcare, Life and Bio Sciences industries that are servicing over 1,000 companies that bring new medicines and treatments to patients. Even with this tremendous growth, Veeva is still on track to realize more gains in the coming years as most analysts see them growing by 13% YoY in revenue though 2025. It's no wonder that Veeva is recognized as one of the top growth companies, holding places on lists like the Fortune Future 50 and the Forbes Fast Tech 25.
Their solution is built on the back of the Salesforce Platform, with whom they have a long-term partnership, which actually will expire in 2025. They have recently announced they don't plan to renew that official relationship, rather they will migrate everything to their own back-end cloud platform, Veeva Vault. It's reported there will be a five-year period for customers to get completely off Salesforce, but its widely thought that Veeva will be aggressively pursuing moves right out of the gate.
Among Veeva's recent wins was with Merck, one of the world leading Pharmacy companies, who announced a long-term partnership to help reduce their operational costs, deliver value to patients, and optimize the healthcare professional and patient experience. Veeva is also taking a lead in an Industry consortium (CDISC Advisory Council) to advance clinical data management standards, by having Veeva's Dan Crawford (Sr. Director, Veeva Vault VDMS) being elected as chairman.
Veeva One Year Stock Performance

Veeva Market Position
While not having the largest 'wallet share', Veeva can be seen as a market Leader in their industry space as being the only company that offers a fully integrated vertical industry solution. Companies in this same vertical often have better and more cost effective 'point' solutions, Veeva is often the more popular choice given they offer a superior 'Suite Option' that minimizes the cost, risk, and hassle of integrations.
Competitive Offerings
Multichannel CRM: Competitive offerings come by way of Oracle, Microsoft and several life sciences specific CRM providers such as IQVIA.
Master Data Management: Suppliers such as IBM, Informatics, IQVIA, Reltio and more serve as part of the competitive landscape.
Data Services: Again IQVIA looms as one of their primary competitors here.
Content Management: Here again, there are several very large global competitors like Microsoft, OpenText, and Oracle as well as vertical specific players like Medidata Solutions, Paraexel, IQVIA, BioClinica and Sparta Technologies to name a few.
In summary, the solutions offered by Veeva right now are global, rapidly evolving, and highly competitive. At the same time they are subject to changing regulations, advancing technology and shifting customer needs, so to continue their growth trend they will need stay ahead of the curve on all fronts.
Based on their growth, release of new products, highly rated customer support and flexibility, we would rate Veeva on our Supplier Evolution Scale as being an 'Innovator/Market Leader'. While they are becoming dominant, they have not yet reached the full maturity of a Market Dominator:
Veeva Market Share: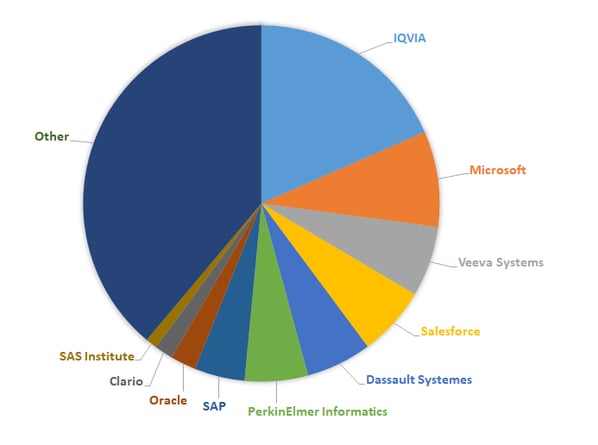 Image: Apps Run the World
As Veeva is only dealing directly with Client/Prospects and not leveraging a channel partner they control their supply chain and communication. Their list prices are not published and therefore any deal is relatively custom made for the Client.
Pricing Methodology and Politics
AS mentioned, Veeva does not deal in the channel(s) so all their relationships are direct with customers. This can be a benefit as they have absolute control over their supply chain and communications. In addition to that, Veeva does not publish their list prices which may leave many customers wondering if they are getting a good deal versus their peers. Veeva will tell you that each solution is very customized for each customer, but this makes it very difficult for buyers to truly know how they are doing when entering a long-term deal.
As stated in our prior article, Veeva is very good in establishing relationships at executive levels within prospect and customer organizations. Often at these levels, discussions don't get down into the commercial details which ultimately works against buyers as mid-level managers try to balance budgets across the organization and negotiate specific elements and products that are required versus those that are not needed.
Hidden list prices, executive relationships, and custom solutions are all telltale signs of overspending.
Customer Risk
We see a few risks that we help our Clients review (in addition to negotiating price, terms and conditions).
As mentioned previously, Veeva does not work with the channel. Given that everything they do is 'in-house', it's very important to watch and guard against changing priorities of their enterprise. As their revenue grows and larger customers purchase their full suite of products, small and midsize businesses may suffer from lack of priority to Veeva sales and support.
Lock in used to be a term mostly associated with on premise software, but cloud software providers have gotten smart about entangling customers in a growing web of offerings that become very difficult to untangle and migrate without substantial pain and cost. While Veeva may offer the best 'Suite' of integrated offerings, that also means they are the biggest anchor to change.
Given the above, the competitive landscape may evolve quickly and companies like Oracle, IQVIA, Microsoft and others have a vast pool of resources and investment dollars to catch up and exceed Veeva's capabilities and become viable alternatives.
Implementation can be a concern as well, since there is sole dependency on them to perform. Any delay or lack of resources on their end can cost you if resources become scarce.
Opportunities
As we enter 2023 and deep recession is forecasted, knowing the competitive landscape is critical if considering Veeva. As stated already, many of Veeva's competitors are able to devote greater resources to the development, promotion and sale of their products and services than they are.
This means the market can initiate and withstand substantial price competition and offer competitive solutions on a standalone basis and at a lower price. Whether it's bundled, standalone or as part of a larger product sale, lower risk, pricing, and greater flexibility may be achieved with competitive offerings. The potential downside is greater management overhead and integration costs. On balance however, the TCO may be better with competitive offerings if that is the primary business driver.
Additionally, Veeva competitors have established marketing relationships, access to larger customer bases and distribution agreements with consultants, system integrators and resellers that Veeva does not have given their 'go it alone' approach. With more competitive forces competing for the same business, the customer can come out ahead if a deal is structured correctly.
Lastly, as we stated at the top of the article, fiscal year end may offer opportunities as sales attempts to shore up revenue and bolster numbers. If you have a renewal, add on purchases to make or are considering a new relationship with Veeva – leveraging their urgency to get deals done may work for you.
Summary
When looking for a new Life Science CRM Platform, Veeva is definitely a platform to be considered. However, we urge caution that the actual sale includes the teams that will have to use and implement the software beyond the Executive offices where Veeva likes to sell. Going all in on a suite of options should not be done in a vacuum, but as we often see, it can and does happen. Typically, that has a great cost in the long run and often to those same executives who bought in early.
NET(net) recommends defined and actual requirements, along with system integrations needed. Full and thorough review of what your own IT team is able to do versus, where you rely on supplier resources as this could be a critical factor when working with Veeva.
With that we would recommend a go to market and challenge Veeva and their competitors to come up with a solution which fits your organization, timeline, cost and functionality, whereby you will have the option to choose between best of suite and best of breed solutions to get to your desired result.
Veeva is a market leader in its segment but comes with risk of overpaying for the solution and having trouble getting the necessary resources, which is something to be considered before making a decision for a platform solution.
Fiscal year end – ensure you know what is motivating your Veeva representatives to get deals done, whether at the executive level or rep level.
As always, contact us with any questions and speak with a subject matter expert.
About NET(net)
Founded in 2002, NET(net) is the world's leading IT Investment Optimization firm, helping clients find, get, and keep more economic and strategic value in their technology supply chains. With over 2,500 clients around the world in nearly all industries and geographies, and with the experience of over 25,000 field engagements with over 250 technology suppliers in XaaS, Cloud, Hardware, Software, Services, Healthcare, Outsourcing, Infrastructure, Telecommunications, and other areas of IT spend, NET(net) has the expertise you need, the experience you want, and delivers the performance you demand, resulting in incremental client captured value in excess of $250 billion since 2002. Contact us today at info@netnetweb.com, visit us online at www.netnetweb.com, or call us at +1-616-546-3100 to see if we can help you capture more value in your IT investments, agreements, and relationships.
NET(net)'s Website/Blogs/Articles and other content is subject to NET(net)'s legal terms offered for general information purposes only, and while NET(net) may offer views and opinions regarding the subject matter, such views and opinions are not intended to malign or disparage any other company or other individual or group.