There is a perfect economic storm brewing right now making it unlikely that cloud hyper-scalers like AWS, GCP and Microsoft will continue systematically lowering prices anytime soon. As inflation rises faster than it has since the late 1980s, the cost of doing business for these providers is going up, especially impacted by:
High energy costs
Increased cost of capital
Supply chain issues (like semiconductors for example)
Build and operating costs for new data centers
If this period of inflation and low growth continues, it would potentially interrupt the declining price trends in cloud computing services. In the worst-case scenario, it could bring price increases in Europe and Asia.
Last March, GCP ('Google Cloud Platform') introduced large price increases across several storage core services. Costs for operations (API calls) will increase a staggering 100% or more! Such price hikes may affect other cloud providers and may expand to key services like compute.
So, while these inflationary pressures affect the cloud providers' operations, there is also significant impact to their respective customers cost structures as well. As pressure on margins continues over the coming months and years, it is imperative that companies stay ahead of inflation with effective management of operating costs and productivity improvement.
Cloud Cost Optimization as a lever against inflationary pressure.
It is common market knowledge that there is tremendous room for improvement in the way cloud customers manage their usage and consumption. Most cloud bills include 20% to 30%+ cloud waste due to mis-aligned purchasing and lack of proactive management. While these waste numbers can translate into millions lost for many cloud customers, they also represent a tremendous opportunity!
If your cloud footprint accounts for a good share of your IT budget, now is the time to have a hard look at that spend and take steps to bring it down. If you have embarked on a large cloud migration program, you should 'reset the clock' by:
Performing a deep dive on cloud spend
Assessing effectiveness of your governance processes
Review your proactive and ongoing cloud optimization program
Set goals around identifying additional savings opportunities and executing them
By taking steps to eliminate waste, your company can mitigate and alleviate the impact of inflationary pressures on operating costs. Just remember, where there is waste – there is opportunity!
This is especially true if you are already experiencing cloud spend and consumption trajectory way above your budgeted projections and contractual commits. It is not unusual to see some cloud customers who are barely halfway into their agreements and already 100% over their usage commitments. If you are even close to this situation, then there is even more urgency to tackle the issues and find ways to first, control cloud spend with right governance then, optimize.
In addition to governance and optimization, you should have contractual experts review agreements to look for opportunities to improve pricing, terms, and conditions.
NET(net) has the practical experience to help you navigate these challenges with our Cloud Cost Audit (CCA) program.
What is a Cloud Cost Audit (CCA)?
Our CCA FIND VALUE process where our AWS, Azure, and GCP experts' review:
Current monthly Cloud consumption and deployments
Future Cloud migration and business plans
Current Cloud agreements and pricing
Governance and optimization models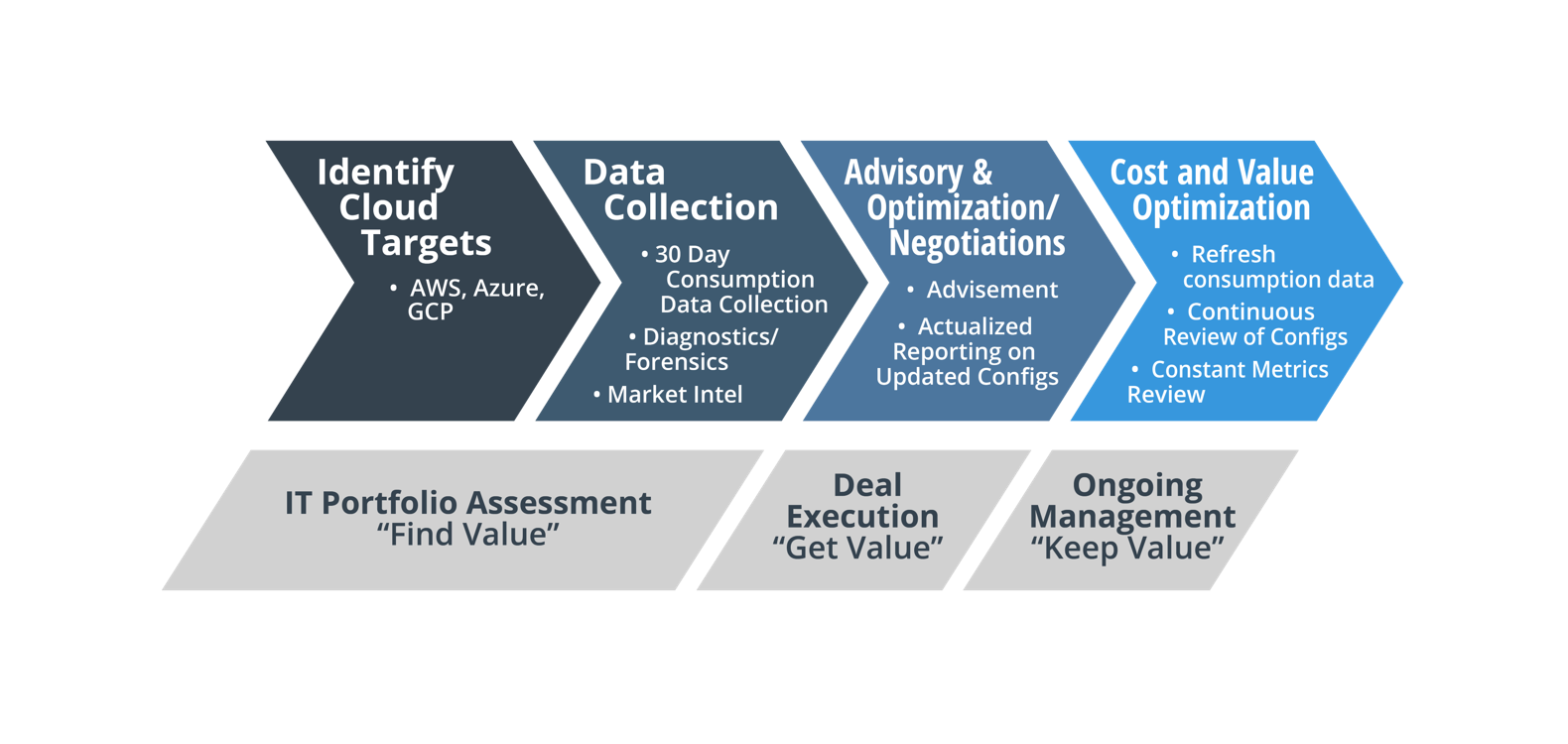 Once the CCA is completed, you have all the data and options to start eliminating waste and reducing cloud costs. You can work with NET(net) where we would engage our GET VALUE program to secure the identified savings and optimizations. We have programs that typically return ROI measured in the hundreds of percent.
If you need help with the governance process and continuous optimization, we can extend services to include our KEEP VALUE program, where we would systematically monitor and generate optimization recommendations.  
As with any strategic technology issue, problem, question, or concern, give NET(net) a call to learn more about our Cloud Cost Audit (CCA) and full range of Cloud Optimization Services, to see how we can help you fully understand and optimize your Cloud spend. Complete this form and a NET(net) representative will contact you and schedule time with a subject matter expert today!
About NET(net)
Founded in 2002, NET(net) is the world's leading IT Investment Optimization firm, helping clients find, get and keep more economic and strategic value. With over 2,500 clients around the world in nearly all industries and geographies, and with the experience of over 25,000 field engagements with over 250 technology suppliers in XaaS, Cloud, Hardware, Software, Services, Healthcare, Outsourcing, Infrastructure, Telecommunications, and other areas of IT spend, resulting in incremental client captured value in excess of $250 billion since 2002. NET(net) has the expertise you need, the experience you want, and the performance you demand. Contact us today at info@netnetweb.com, visit us online at www.netnetweb.com, or call us at +1-866-2-NET-net to see if we can help you capture more value in your IT investments, agreements, and relationships.
NET(net)'s Website/Blogs/Articles and other content is subject to NET(net)'s legal terms offered for general information purposes only, and while NET(net) may offer views and opinions regarding the subject matter, such views and opinions are not intended to malign or disparage any other company or other individual or group.