Founded in 2003 and headquartered in San Francisco, California, Docusign went public in 2018.
Financial Notes:
DocuSign experienced tremendous growth due to the work-at-home environment – demand has slowed.
YoY stock was trading in January of 2022 at $144/share – one year later it's trading at $56/share or 62% drop
In June 2022, their Q1 2023 earnings, missed expectations and stock dropped 24%
Also in June, CEO Dan Springer departed with Chairman Maggie Wilderotter assuming interim role
September 2022 – named Allan Thygesen ex-Google Executive as new CEO
End of September cut 9% of workforce as part of restructuring plan
December 2022, their Q3 earnings, rebounded and revenue increased 18% YoY
DocuSign has been falling in 2022, as the market grasped that COVID-era growth was not sustainable.
There is enormous uncertainty in the outlooks.
The Wall Street consensus rating is neutral, but there is a large spread among the analysts' price targets.
The market-implied outlook continues to be bearish for DOCU, with very high volatility.

"I believe it's important to acknowledge where we have not executed as well. It's clear we did not pivot quickly enough and we were slow to make changes. As we experienced tremendous growth during the pandemic, we did not scale the team properly. We lost some innovation velocity. We didn't fully address the changing market dynamics nor mature our operations and systems sufficiently. We understand those gaps, and we're committed to moving forward with more transparency. I think the good news is that the future is in our own hands." - CEO Allan Thygesen, Q3 2023 Earnings Call
DocuSign Market Position
Enterprise Competition:
Adobe Sign
HelloSign
PandaDoc
signNow
Signeasy
Xink
SignRequest
Based on their growth, release of new products, highly rated customer support and flexibility, we would rate DocuSign on our Supplier Evolution Scale as being a 'Market Dominator'. Typically dealing with market dominators comes with added pressure and leverage from their respective sales orgs: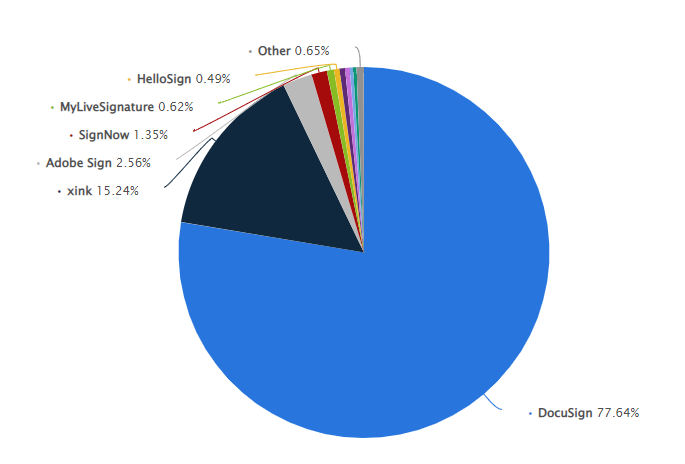 Pricing Methodology
Partner ecosystem of ISVs, Resellers, System Integrators and developers.
Free Trial available

Personal $10/month/user for annual payment ($15 if paid monthly)
Standard $25/month/user for annual payment ($45 if paid monthly)
Business Pro $40/month/user for annual payment ($65 if paid monthly)
Enterprise Call us!

Need enterprise for APIs, Integrations, embedded signing, branding and more.

Docusign does not publish its 'Enhanced' or Enterprise plans making it hard for customers to know what a good deal is, but you can turn to the competition.
Customer Risk
Revenue retention rates have been declining steadily for subscription revenue post pandemic from 122% first quarter, to 114% in June 2022, to more recently…
Customer acquisition rates have also fallen off from 31% in fiscal 2022 to 26% June 2023
These numbers rebounded a bit in their Q3 2023 numbers, but will have to wait and see if that trend continues
Execution on business plans plagued Docusign in 2022 (calendar year) which led in part to CEO departing and a dropping stock price. How will focusing on their earnings/business plans impact existing customers?
Did you contract your deal during the Pandemic? You may be overpaying.
Docusign is often embedded into company workflows and other technologies making switching to alternate providers difficult. Business system landscapes should be scoured for these embedded solutions as a switch to an alternate provider will take time and should be complete – don't leave "pockets of Docusign" behind.
Owners of other technologies (like Adobe and Dropbox for instance) may already have e-signature capabilities licensed as part of existing enterprise arrangements. Look for opportunities to widely deploy those to replace DocuSign.
Costs can increase without warning as overages are incurred an limits exceded.
DocuSign can be difficult to create and integrate workflows and, typically, requires coding level skills. As workforce turnover, both voluntary and involuntary, continues the loss of capability to make DocuSign work (and continue to work) in an organization is become an impediment to its use.
Employee sentiment is always a sign of how customers may be treated. DocuSign has consistently been on several lists of Best Places to Work. It's been on Glassdoor's site as Top 100 for several years.
But that may be changing with the new leadership installed. With the new leadership came several new (some would say unpopular) decisions. It's rumored that nine previously paid company holidays were revoked, as well as some health benefits that were once free are now being charged to employees. Sales quotas have also gone up with many reps now missing them as compared to previous leadership.
At the end of the day – is new leadership justified in making these hard changes or are they moving too quickly and ruining corporate culture in the meantime. Only time will tell.
From Glassdoor review:
"Many customers are unhappy with deals contracted during the pandemic and are looking to renegotiate or leave. Many of the sales reps who sold those deals got paid and left and that leaves the remaining reps to fix these issues without the ability to sell more and get paid. There are many broken processes, with no accountability anywhere. It takes a lot of effort to get things done internally. This results in a vast amount of time wasted, and people are not able to focus on what they are supposed to be doing."
Opportunities
Renegotiating your 'pandemic' deal
Replacing with alternate solutions either currently owned or newly acquired at substantially lower costs
Aggregate licensing to allow for consumption over longer periods of time
Assess licensing levels to determine/confirm you are not licensing features you don't need or use
As always, contact us with any questions and speak with a subject matter expert to help navigate your Docusign deal and relationship.
About NET(net)
Founded in 2002, NET(net) is the world's leading IT Investment Optimization firm, helping clients find, get, and keep more economic and strategic value in their technology supply chains. With over 2,500 clients around the world in nearly all industries and geographies, and with the experience of over 25,000 field engagements with over 250 technology suppliers in XaaS, Cloud, Hardware, Software, Services, Healthcare, Outsourcing, Infrastructure, Telecommunications, and other areas of IT spend, NET(net) has the expertise you need, the experience you want, and delivers the performance you demand, resulting in incremental client captured value in excess of $250 billion since 2002. Contact us today at info@netnetweb.com, visit us online at www.netnetweb.com, or call us at +1-616-546-3100 to see if we can help you capture more value in your IT investments, agreements, and relationships.
NET(net)'s Website/Blogs/Articles and other content is subject to NET(net)'s legal terms offered for general information purposes only, and while NET(net) may offer views and opinions regarding the subject matter, such views and opinions are not intended to malign or disparage any other company or other individual or group.