In a recent Information Week article (chart below), we came across this chart of negotiated discount levels, and we were troubled to learn that only 8% of the companies surveyed get greater than 35% discounts most frequently. Having been helping Clients get greater economic and strategic value from their information technology investments for over 10 years, NET(net) has collectively negotiated over 15,000 deals in the field, and we can't remember a single time with a single supplier that we haven't been able to help our Clients achieve greater than a 35% discount level off a supplier's list price.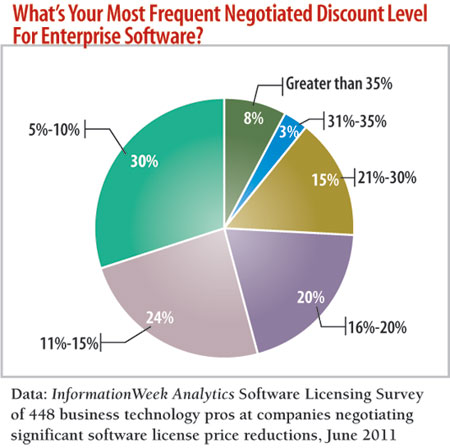 These imaginary "list prices" for software suppliers are so outrageously inflated that it's difficult to imagine a net cost of more than 65% of this amount. There are several techniques to negotiate better unit prices with suppliers, and many of them fall in the category of federating market intelligence. It is often difficult for a Client to know how a supplier discounts, without the benefit of seeing many deals across many Clients, and across many different industries and/or geographies.
I'm reminded of a market buyer who asked a street merchant "how much for the necklace", and was told 10,000 Rupee (about $200). He negotiated with her for 20 minutes, and settled at 7,000 Rupee (about $140). He must have thought he did quite well until a smartly dressed woman with clearly better market intelligence told the merchant that she liked the necklace and was willing to pay 1,000 Rupee (about $20). When the merchant said it was for sale at 10,000 Rupee, the woman just laughed and said, "that may be so, but I am willing to pay 1,000 Rupee only". 30 seconds of negotiations ensued - and she had her deal at 1,000 Rupee.
Most clients are tempted to negotiate from a supplier anchored number, and will ask for discounts from that number. This phenomenon of anchoring is a powerful weapon in negotiations and it can work for you (if you make your own numbers) or against you (if you consider supplier list prices). Those Clients that leverage federated market intelligence more effectively will often significantly outperform others who do not.
Judging by this survey, almost all Clients think that a 35% reduction over the asking price is wildly successful (in the 92nd percentile) – and that level of performance would only be in the 1st percentile when compared to NET(net)'s performance with its Client base.
In the first dimension of negotiations (value claiming), Clients and suppliers go back and forth on prices, but rarely are Clients as prepared for these price negotiations as are the suppliers. After all, a Client may negotiate with this supplier once every 3 years, and the supplier negotiates its own prices every single day. To help level the playing field, NET(net) has a proprietary seven-layered market intelligence database, and constantly federates market information for the benefit of its Clients. By way of our Advisory Services, NET(net) makes this federated market intelligence available for its Clients looking to lower costs while also improving the strategic value of their technology investments with their key suppliers.
NET(net)'s Website/Blogs/Articles and other content is subject to NET(net)'s legal terms offered for general information purposes only, and while NET(net) may offer views and opinions regarding the subject matter, such views and opinions are not intended to malign or disparage any other company or other individual or group.
NET(net) will review your current agreements or proposals, and will advise you on ways in which we may be able to help you get better economic and/or strategic performance. NET(net) represents more than 1,500 Clients in virtually all geographies and industries, has professionally managed over 15,000 field engagements, and continues to excel with unparalleled performance, resulting in over $50 billion of negotiated savings and benefits for its Clients since 2002. Contact us today at 866-2-NET-net, email us at info@netnetweb.com or visit us online at www.netnetweb.com.