At the end of November, 2011, Oracle reported its Fiscal Q2 results, and for only the 2nd time in the last 5 years, reported a sequential reduction in annual maintenance income.
See chart below: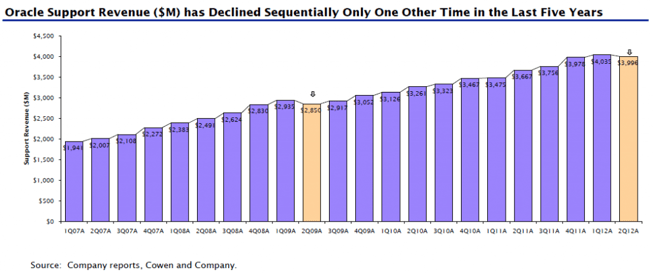 This is a significant development, mostly because of how Oracle charges for maintenance. When Oracle sells software licenses, it also includes the first year of annual maintenance at 22% of the net license value – and there is no option to 'unbundle' and not pay the first year maintenance charge. So, if Oracle sells $2 billion of software in a given quarter (which it roughly did in Q2 of Fiscal Year 2012), that means Oracle would also gain $440M in annual annuity income in the form of ongoing maintenance services and support revenue. To demonstrate a sequential reduction of nearly $40 million in the quarter (which they also roughly did), means they would have actually had to have lost annual annuity income of more than $480 million in the quarter (12 times what the $40 million sequential reduction illustrates). This is astounding actually, when you consider the near tyrannical policies Oracle enforces in its annual maintenance processing, making it all but impossible for clients to reduce their payment obligations, short of outright cancellation of all maintenance on all products that share an order (or have been bound together). If that trend continued for four quarters, Oracle would lose nearly $2 billion, half of its existing book of maintenance business.
The other very significant concern for Oracle is that maintenance revenue disproportionately counts towards profitability. Measured as a business unit, Oracle reports maintenance profit margins in the 96% range. Of additional concern is that Oracle maintenance was down across the board, and in both hardware and software.
As we have been working with clients in 2011, we have seen very significant scrutiny on annual maintenance costs, mostly as our clients continue to focus on ways to reduce costs, while concurrently evaluating newer technology choices like SaaS and Cloud Computing, displacing aging legacy applications that are Oracle centric. Another factor that needs to be considered is the continual pressure from firms like Rimini Street and others who offer third party support services at advertised rates of 50% off the cost of Oracle.
With threats from SaaS providers like Workday, taking share from the old legacy PeopleSoft base, and Salesforce.com, taking share from the old legacy Siebel base, it's not entirely surprising to see Oracle maintenance stream diminish as Clients modernize their approach to leverage SaaS and Cloud Computing. In 2012, we will be watching this trend closely, and monitoring the already draconian Oracle licensing rules and company policies regarding the (in)ability for Clients to dial their maintenance costs to meet the value they are receiving. The forecast is grim. NET(net) expects more tyrannical policies to emerge as Oracle tries desperately to hold on to its extremely profitable maintenance revenue – and disruptive suppliers concurrently try to chip away at this behemoth funding engine.
NET(net)'s Website/Blogs/Articles and other content is subject to NET(net)'s legal terms offered for general information purposes only, and while NET(net) may offer views and opinions regarding the subject matter, such views and opinions are not intended to malign or disparage any other company or other individual or group.