Find Value — Get Value — Keep Value
Sustainable IT Investments Start Here
---
Generate sustainability in your key technology investments. NET(net) can help you analyze your options, optimize your investments, and negotiate the best deals with your key technology suppliers resulting in dramatically improved strategic and economic value to your organization.
Roll over any part of our Sustainability Orb for more detailed information.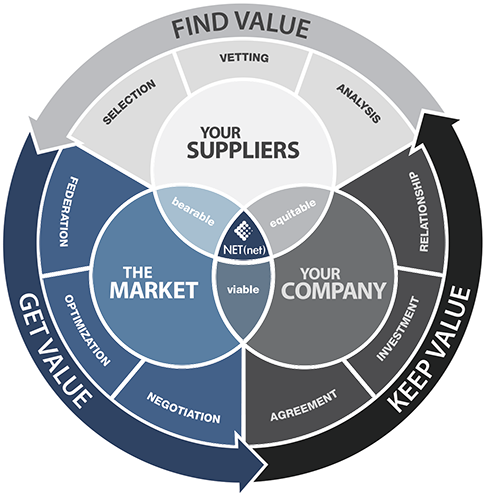 Your Suppliers
In your technology supply chain, suppliers will have their own goals and ambitions and will have incentives to promote their innovations, highlight their capabilities, sell their wares and position their ecosystem partners.
Selection
Find Value by utilizing a proven and disciplined supplier evaluation and selection process that reduces subjectivity and risk, and improves performance and value.
Vetting
Find Value by vetting potential opportunities for value improvements by socially vetting suppliers in your technology supply chain with a strong peer network.
Analysis
Find Value by analysis of your current supplier spend and identification of key opportunities to improve economic and/or strategic value.
Relationship
We review and analyze select supplier relationships, and oversee and remedy any critical issues that come up, maintaining custom supplier management plans, non-standard escalation paths, and executive level relationships.
Investment
We monitor and govern select supplier investments, and proactively and strategically manage financial performance, reconciling any discrepancies, and remediating any errors.
Agreement
We review and analyze select supplier agreements, and input contract meta data into our contract management tool, identifying key date-related provisions, setting meaningful alerts and notifying you proactively when action is required.
Negotiation
We'll leverage our patented negotiation methodologies, and provide decision support and/or "at the bargaining table" supplier negotiations assistance to ensure you get the protections and flexibility you need to capture maximum value in your commercial arrangement.
Optimization
We'll leverage our proprietary tools to analyze your organizational requirements, and evaluate all the available supplier options, and will bring to life alternative deal permutations that meet your needs, but offer better economic and/or strategic value from the supplier solution.
Federation
We'll leverage our federated market intelligence to benchmark your agreements, investments, and relationships, and perform a gap analysis between the economic and strategic value of your deals versus market optimized conditions to highlight your opportunities for improvement.
The Market
In the market you'll find general opportunities to lower costs and automate your business to capitalize on first-mover market advantages to find solutions for special projects or specific markets, industries and geographies and you'll be subject to certain limitations and regulatory markets.
Your Company
In your company, you'll have needs, ambitions, organizational objectives, priorities, budgets, capabilities, infrastructure and demographics that are all unique to you.
Viable
Those things that are good between the market and your company, although they may be viable, they're not sustainable if they're not also good for your suppliers.
Bearable
Those things that are good between your supplier and the market although they might be bearable, they're not sustainable if they're not also good for your company.
Equitable
Those things that are good between your company and your suppliers, although they may be equitable, they're not sustainable if they're not also good for the market.
NET
(net)
At NET(net), we focus on helping clients build sustainability that takes the very best of all these elements, in the end, this model has proven to help our clients reduce the costs to serve the business by 40% and has dramatically improved strategic value and supplier performance.