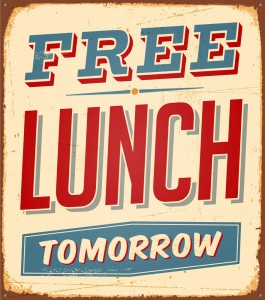 We are all conditioned to some degree either consciously or subconsciously, that when we hear the word free - it must be a good thing:
Buy one, get one free!
Free with purchase of two or more…
Free to the first 10 customers…
Claim your free gift by registering today…
And the list goes on…. However, these marketing terms are not limited to the realm of retail. We are exposed every day to the same conditioning in the world of B2B technology and software. And just like in the retail world, more often than not, "free" is really not free at all. No one gives something away for nothing, or they wouldn't be in business very long. There has to be value in the exchange, or it simply isn't worth doing. SAP and Oracle did not become behemoths in the marketplace by giving things away, quite the opposite actually. So when you are 'pitched' the idea of a 'free' license transfer from SAP or Oracle – remember what my Uncle Rick used to say, "Take something free now, be ready to pay later."
NET(net) finds that in almost every case where an Oracle or SAP customer is offered a 'Free License' transfer (either in terms of an upgrade or under a Transition Services Agreement (TSA) due to a business carve-out), it's ultimately the more expensive strategy.
Most carve-outs will allow some of the prior parent's licenses to be transferred to the new company. Sounds good so far? This is a "for free" strategy, and at first blush, it sounds attractive. However, there are both hidden traps in licensing rules, AND more importantly the economics of license transfers are almost always MORE EXPENSIVE to take "free", than seeking an alternative path. This is specifically important for any company that looks at EBIDTA goals over a 5-year OpEx period. With most (financial) executives being measured on EBITDA improvements and OpEx reductions, it can be a very personal matter for the CFO and CIO.
Take SAP, for example. Typically, every time there's a new major shift (e.g., R2 to R3), they say it's a new product and you need a new license. The offer may look something like: "We're going to give you 70% discount/transfer credit – so you'll only owe us 30% for new software!" Wow – that sounds good right?
If you were waiting for the 'buts', here they are:
But…you have been paying Maintenance and Support for the last several years! Those support dollars are supposed to pay for new developments and improvements to the software. 10%-20% of the dollars you pay actually go to support – the rest goes to development! You've now paid many years' worth of Maintenance & Support (M&S) to develop new software that you'll be asked to pay for again?
But…like a commodity trading in the markets, for SAP or Oracle, the price in market for that software is nowhere near what is used to be. It used to be $100 – now its $5. So it 'might' be a good deal if the market price was still the same – but it isn't!
But…you may also have to factor in costs when/if you have to re-engineer your systems to integrate your new software. Often the estimated costs from the supplier are 3x-5x below actual. Can you say, re-implementation?
Now, here is the real hitch. SaaS (e.g., leasing not owning) is the big new trend in the market. Both SAP and Oracle are trying to catch up to early and mature SaaS providers, such as SalesForce or Workday. That catch up is "the next big thing" you need to adopt. However, here is what most executives do not consider. When you look at SaaS versus Licensed (owned), the license economics of SaaS is low cost of entry (initial lower up-front investment). And just like an auto lease, you pay less for the right to use the it for a limited term because you do not own the asset. Now the rub on any "for free" transfer from a license to a SaaS model is that SAP and Oracle are "anchoring" your price – when you trade in – to historic license cost models. In other words, you are setting your SaaS price at up to 5 times higher than a market optimized SaaS acquisition.
So let's recap how many times you are actually going to pay for the software:
Bought the original license to start with
Invested in M&S through the years to get updated product
Then, you get to trade it for partial credit, AND pay a premium for the new
Bonus! When/if you move from an ownership model, to a rental model – you pay again.
Trading in something you own, for something you borrow with few rights - at a premium? Ouch.
NET(net)'s general advice (besides just calling us before you even entertain a trade-in offer), is to get 2nd and 3rd opinions and not listen to the supplier who is part of the 'Technology Cartel'. Remember, they have one goal in mind, and that's to sell at an insanely profitable margin – not give away stuff for free. If you need to see it laid out on a spreadsheet with hard numbers, that's what we do. No hyperbole or marketing and sales spin, just the facts upon which you can make sound financial decisions.
Notice
NET(net)'s Website/Blogs/Articles and other content is subject to NET(net)'s legal terms offered for general information purposes only, and while NET(net) may offer its unadulterated views and colorful opinions regarding the subject matter, such views and opinions are not intended to malign or disparage any other company, individual, or group.
About NET(net)
NET(net) is a global disruptive industry force for good and has the experience you want, the expertise you need, and delivers the performance you demand to help you save money and improve value. NET(net) is the world's only fully technology-enabled consultancy exclusively specializing in full service optimization of the technology supply chain, bringing clients and suppliers together to create winning markets and winning relationships.
We help clients:
Find Value in their professional supply chain through strategic sourcing efforts designed to align client need to supplier capabilities while leveraging our objective, evidenced based processes to deliver optimized supplier proposals.
Get Value in a custom marketplace created through bespoke supplier negotiation assistance, leveraging our federated market intelligence, resulting in improved commercial arrangements and strengthened contractual agreements.
Keep Value in their organization through proactive industry best strategic supplier performance management of the agreement, the investment and the relationship, resulting in better, more sustainable business partnerships designed to deliver long term sustainable business value.
With clients around the world in nearly all industries and geographies, and with the experience of tens of thousands of field engagements, we have helped our clients capture hundreds of billions of dollars of incremental value. Contact your NET(net) representative, email us at dsiglin@netnetweb.com, visit us online at www.netnetweb.com, or call us at +1-866-2-NET-net today to see if we can help you capture more value.