Clients are constantly asking NET(net) about the cloud. They largely think it offers some benefits in terms of lower cost, quicker deployments, and higher subscription based elasticity. In a recent client survey, just over 80% of clients believed that these were the top 3 benefits of 'moving to the cloud'.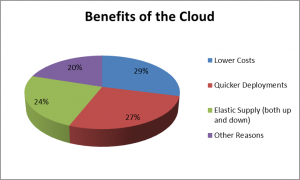 Clients also consistently express concerns about the cloud as well, and like the advantages, it comes down largely to three reasons. In this same survey, clients suggested that they were mostly concerned with security, virtualization, and wrongful data exposure.
What's really interesting, is that while the concerns are largely all good concerns, and suppliers are increasingly able to address those concerns, it's the areas of the perceived benefits that really concern us the most. In reality, the promise of the Cloud is going largely unfulfilled.
Why do we say what? Well, first of all, with the exception of a few cloud providers, we can't really point to a lower cost model in most cases with enterprise clients. Certainly the start-up costs are generally lower than a capitalized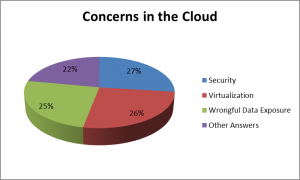 operation. Instead of a one-time purchasing event for networking gear, servers, storage, software licenses, etc., clients are able to start with fewer users at a unit cost that would otherwise be difficult if not impossible to achieve on their own. This perceived lower risk however, often leads to decisions that seem low cost on the surface, but when these solutions deploy to scale, they are often significantly more expensive than enterprise class software alternatives. In one case, a client's Salesforce.com deployment, which was initially agreed to in the sales and marketing department ended up costing more per year, than an entire capitalized cost for all the hardware and software would have cost amortized over five years of useful life. Most SaaS models were never intended to scale to enterprise levels, and once they do, they can look like a financial albatross that quickly turned into a financial disaster. We always advise clients to carefully consider seemingly low cost, low risk SaaS alternatives and think about what they might become in a few years.
In addition to economic models run amuck, many times decisions to purchase SaaS offerings are made by the business units, and outside of a clients' normal procurement process, which typically means they have not benefited from any kind of strategic sourcing. Absent strategic sourcing, clients are often left with bad economic decisions with suppliers that have a strong foothold with business users who may like the graphical user interface, but perhaps don't understand that significantly lower cost alternatives may have existed that offer as good or better features. Once users are trained and these systems are operationalized, it's often infinitely more difficult to bring economic sanity back into focus, as suppliers and client advocates alike trump up the switching costs, and FUD alternative proposals. One company we have worked with has changed from Salesforce.com, to Salesnet, to RightNow, to Microsoft Dynamics CRM, and the data migration and retraining efforts to move from one to the other are often times much easier than suppliers would have you believe.
To further the problem, largely due to the fact that these agreements were entered into between business people and SaaS providers, and were done with near click-through type agreements, we find that clients end up in horrendous contracts; contracts they would never sign if they had been able to review them properly in advance of agreeing to a solution. Even those clients who had the ability to review the contracts in advance, often are not able to leverage new contracting capabilities crucial for SaaS technologies. Instead our clients use old software agreement templates, which certainly get a significant number of the key issues of a SaaS contract addressed, but leave out other critical elements required for strategic supplier management. Absent some of these critical issues we feel are important to address in every SaaS agreement, clients often find they are unable to govern these investments effectively over time. Most SaaS providers are asking for minimum volume commitments, multiple year commitments, and even all fees to be paid up front. One well known supplier in this space also asks for termination fees in the event a client wants to turn their subscription off. Amazing. This completely violates the promise of the cloud, but to our surprise, many clients agree to such terms without professional assistance in advance of contracting with the IT supplier(s).
NET(net)'s Website/Blogs/Articles and other content is subject to NET(net)'s legal terms offered for general information purposes only, and while NET(net) may offer views and opinions regarding the subject matter, such views and opinions are not intended to malign or disparage any other company or other individual or group.
About NET(net)
Celebrating 10 years, NET(net) is the world's leading IT Investment Optimization firm, helping clients find, get and keep more economic and strategic value. With over 1500 clients around the world in nearly all industries and geographies, and with the experience of over 15,000 field engagements with over 250 technology suppliers in XaaS, Cloud, Hardware, Software, Services, Healthcare, Outsourcing, Infrastructure, Telecommunications, and other areas of IT spend, resulting in incremental client captured value of nearly $100 billion since 2002, NET(net) has the expertise you need, the experience you want, and the performance you demand. Contact us today at info@netnetweb.com, visit us online at www.netnetweb.com, or call us at +1-866-2-NET-net to see if we can help you capture more value in your IT investments, agreements, and relationships.