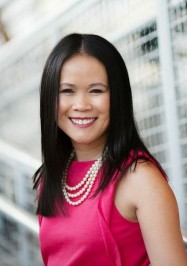 President and Chief Executive Officer
Kellsey Le
As of January 1, 2013, Kellsey Le was appointed and promoted to President and Chief Executive Officer of NET(net), Inc. She is responsible for aligning the entire organization to the goals and objectives of its commercial clients and integrating the functional teams to deliver exceptional value and impactful results. Ms. Le has served in multiple roles during her 10 year tenure at NET(net) from managing client and partner relationships, leading Client Services and Professional Services functional groups, and most recently as the President and Chief Operating Officer with global rollup responsibilities for all field and business operations.
Under Ms. Le's leadership, NET(net) has over-achieved value and growth targets while maintaining excellent Client satisfaction rates in all measured categories and has been a key sponsor of the company's high performance culture. Furthermore, Ms. Le has been integral to the successful launch of several new lines of service at NET(net), including developing a prototype for the value delivery service model. She led the process of creating the company's Private Equity program, and has driven considerable achievements for the firm. In addition, Ms. Le has also been critical to the success of NET(net)'s expansion into Europe.
Ms. Le has been awarded with NET(net)'s Most Valuable Person award in 2004, 2005, 2006, 2007, and 2008 for consistent overachievement of company goals and was promoted in 2007 to oversee the company's client services operations globally. She was promoted again in 2009 to NET(net)'s Chief Operating Officer. She assumed the additional responsibilities of President and Chief Operating Officer on January 2011.
Prior to joining NET(net), Ms. Le worked in management roles at Computer Associates and has more than 15 years of experience managing high-performing teams. Ms. Le is known for her energy, work ethic, passion for excellence, and delivery of exceptional client value with the highest standards, resulting in high client satisfaction.
Ms. Le graduated with a Bachelor of Arts degree from Indiana University.
Ms. Le is committed to many humanitarian issues, philanthropic interests, and charitable causes, including the Boys and Girls Club and Habitat for Humanity. Ms. Le leads NET(net)'s integrated philanthropy programs and pursuits in this regard.